How to Boost Sales with Popular Posts Lists in WordPress
Hey Guys! This article is all about the new awesome feature and update of MonsterInsights 7.13 that will help you boost sales by showcasing your popular posts on your WordPress site. A lot of people surely have google analytics reports in their hands but they may not know what to do next and how to best utilize the google analytics data and reports to boost their sales. There needs to be someone to guide and suggest you things that will make you the best performer. And the new feature of MonsterInsights just does that!
Most importantly this miraculous feature of MonsterInsights helps you reduce the bounce rate of your website and improve user retention.
MonsterInsights has announced 2 new features:
The Popular Posts
The Contextual Insights
Using these features it's possible to showcase or display the best performing blog page or product of your website at any place on your website. Along with that you can display the insights of the posts or products in order to impress your website visitors and clients.
Please note that you need to have a premium subscription of MonsterInsights to use this feature. MonsterInsights has announced great discounts on Black Friday and Cyber Monday events. Hence you get more for less! So what are you waiting for? Grab awesome offers on your MonsterInsights subscription! Go ahead and click on this link or on the image below to subscribe now.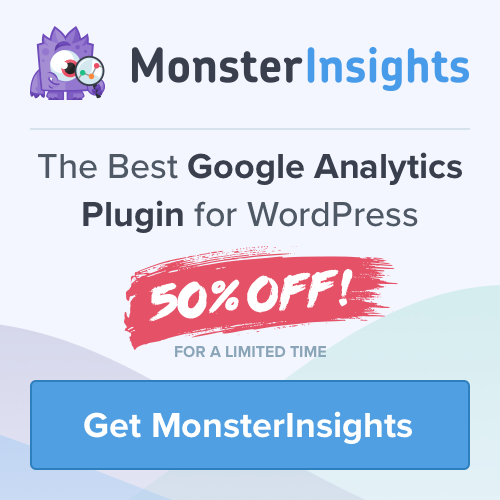 Now lets have a closer look of these awesome features:
Using Popular Posts feature to Display a list of best performing posts of your WordPress website
When someone visits your website for the first time, they may not be able to figure out the best article or post of your website in a glance. In this case its often wise to declare and tell them which of your posts are popular and doing well. So that they stick to your site for a longer time. This way your website's user retention will increase and the bounce rate will be reduced.
Using MonsterInsights Popular Posts feature you can display the top performing articles along with its insights at any place of your website.
As a result there is more audience engagement and possibilities of more subscriptions.
This feature allows you to display your popular posts in the following 3 ways:
Inline Popular Posts – The 1st way lets you display posts in between the text of your content
Popular Posts Widget – The 2nd way lets you display nearly 10 of you top performing articles on your website's sidebar,widgetized areas or even at the end of your blog posts.
Popular Products – The 3rd way lets you generate more sales by displaying popular products. This is especially useful for those who have eCommerce websites.
The image below is an example of how your popular post would be showcased and highlighted: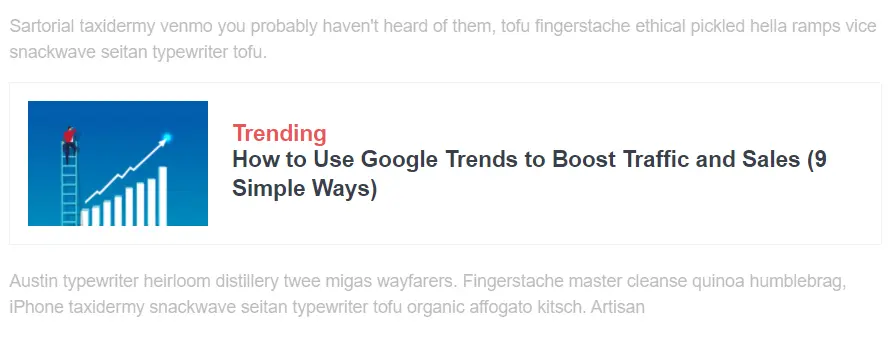 Using Popular Products feature to boost the sales of your eCommerce website
The best tactic to increase your sales is to recognize and display the best selling products according to the analytics and showcase them on your homepage and sidebar.
The Popular products features makes this possible without much efforts.
The below is an example of a T-Shirt website with its most sold products. Showing insights increases credibility and authenticity of sales and thereby helps skyrocket your sales in no time. This way you can easily manage to up-sell your products.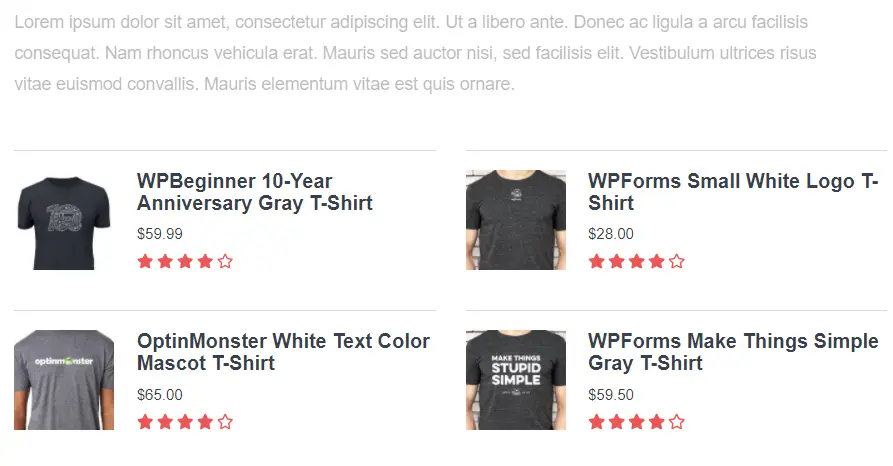 Popular Posts are Customizable in terms of looks and feel
Popular Posts is designed to suite and work with all WordPress themes. This feature has a wide range of customization with which you can change the color schemes,  styles and layouts as per your needs. You can also add your own custom labels. The image below is a representation of the customizer.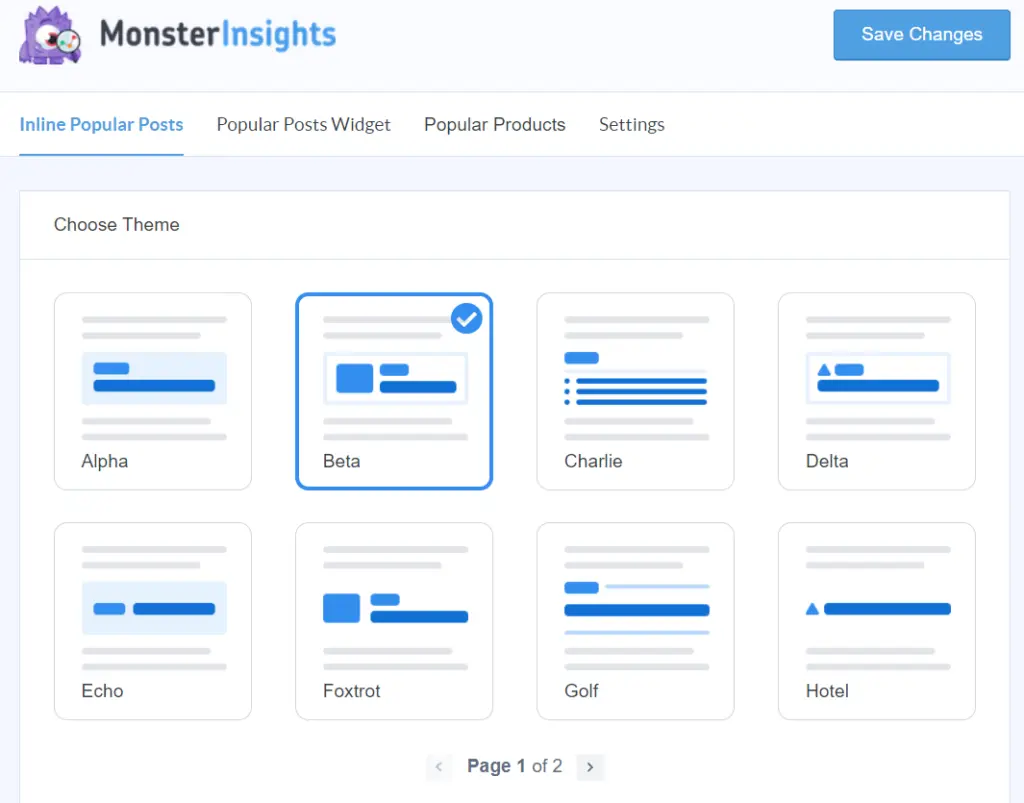 The good thing about this feature is that you can change all settings from within the WordPress dashboard. Also you can change the settings while working inside your posts for an inline popular post.
3 choices for displaying the popular posts
Monsterinsights lets you display popular posts based on views, shares and comments. Many times people believe contents with more views and shares. They may also look for other people's opinion in the comments if there is any. So sorting and displaying your posts based on these criteria will add credibility to your content and definitely help you increase the viewership. Refer to the image below: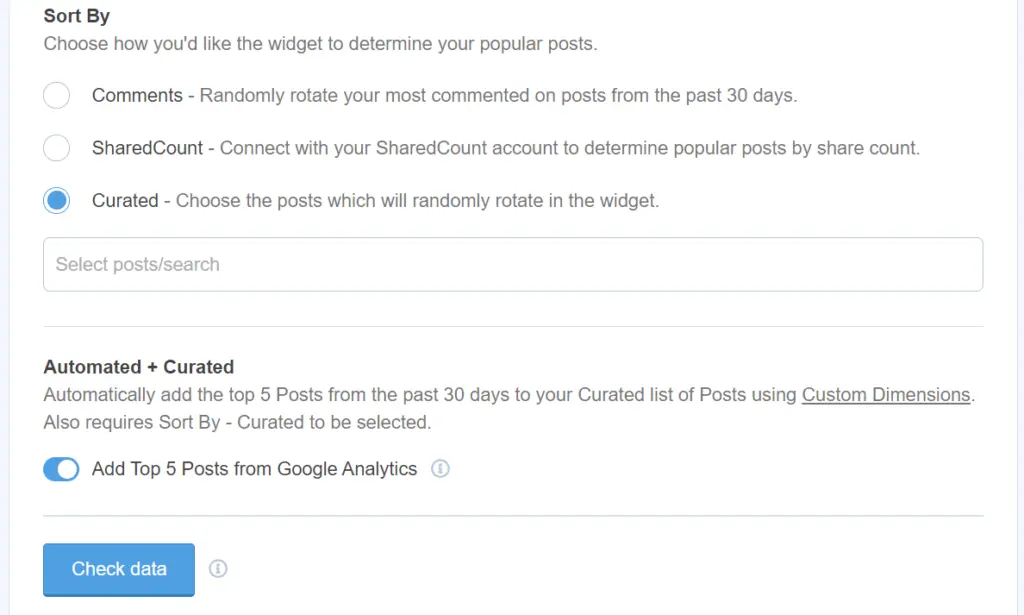 Automated + Curated option allows you to combine posts using custom dimensions based on last 30 days. This feature also lets you randomly display your top 5 posts according to your google analytics in widgetized areas or in-line in your posts.
Contextual Insights about your website will definitely boost your business
Contextual Insights is a feature of MonsterInsights that sends notifications to you regarding your website's performance and insights which is viewable from within your WordPress dashboard. These timely notifications get you accurate statistics of demographics, region, age, gender etc which helps you to learn and devise strategies to grow your business. For example if you know from which region or country you have more audience than you can very easily understand their requirements and create content according to their interest. You may provide a language translation option as well according to the region so that your website visitors pay more attention to your content. Once having learnt about your audience you can possibly send personalized messages to every set of audience. Believe it or not, sending personalized mails or messages will create a way more sentimental attachment in your customers or audience.
Need help on How to Boost Sales with Popular Posts Lists in WordPress let us know. We are always happy to help you.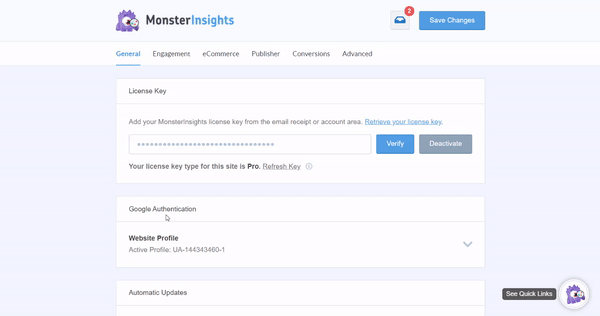 Final Words
The new feature of MonsterInsights does more than just reporting and analysis. It helps you showcase the popular content whether be it posts or products anywhere on your website. It sends the best hints and to do things straight into your WordPress dashboard with which you can improve the productivity. This way you have a better chance to best utilize your google analytics data to boost and take your business to the next level. So in short you can understand that this feature of MonsterInsights is just like your personal assistant who helps you with your appointments.
Awesome! Make a wise decision! Subscribe to MonsterInsights Now!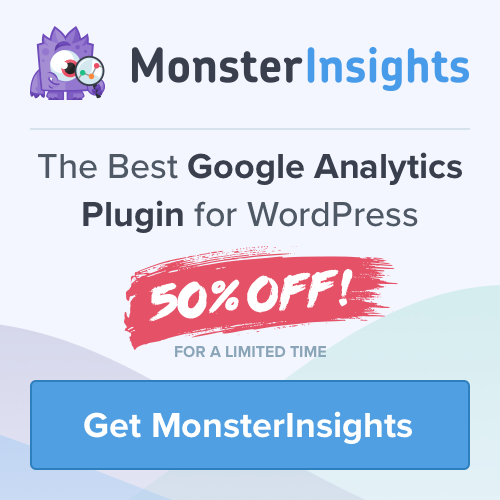 I hope this information on How to Boost Sales with Popular Posts Lists in WordPress is helpful. Visit my site Frequently for more…
Similar Articles:
Best way to share WordPress analytics reports with Google Analytics
Best way to make your google analytics comply with CCPA
Best way to share WordPress analytics reports with Google Analytics
How to Use Email Marketing to Skyrocket Your Sales
How to Connect WordPress Website Leads And Salesforce CRM
Latest posts by himaghiri
(see all)