How to Set Up Form Conversion Tracking in Google Analytics
If you have setup online forms on your website, then you might probably want to know the source of traffic pouring into you forms. Without knowing the traffic source it would be difficult to know the value of your campaign and its lead generation.
The insights of your marketing campaign could be tracked easily by configuring lead source tracking on your website.
In this tutorial we shall discuss How to Set Up Form Conversion Tracking in Google Analytics?
Form Conversion Tracking in Google Analytics
If you don't have a steep learning curve in Google Analytics, its absolutely very difficult to setup a lead generation tracking for your online forms. Usually you will have to create a goal for every online form that you want to track the lead generation for, and you will also have to create a separate tracking code for each form on your WordPress site.
Tracking the source of your leads become more complicated when you have plenty of such forms on different locations of your website.
MonsterInsights helps you easily track your form conversations in few simple steps. Hence you don't have to manually create a goal inside your google analytics and perhaps no interference with the codes. Click here to subscribe MonsterInsights Form Addon.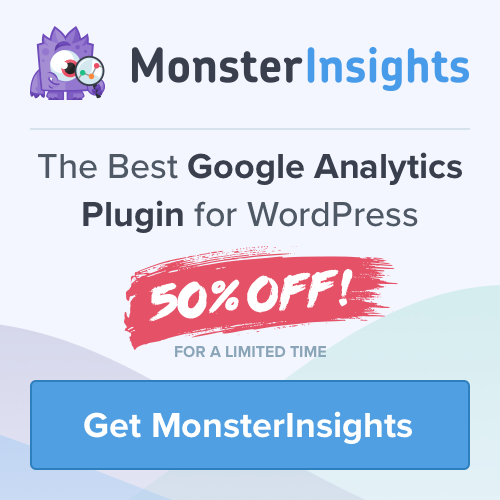 How to use MonsterInsights to track form conversations?
The first thing is that you need to install MonsterInsights Form Addon and activate it. MonsterInsights WordPress plugin is compatible with all major form plugins and doesn't require any special configuration inside your google analytics.
After installing MonsterInsights plugin, you will have to connect it with your google analytics account. Then you will have to install the forms addon as shown in the image below: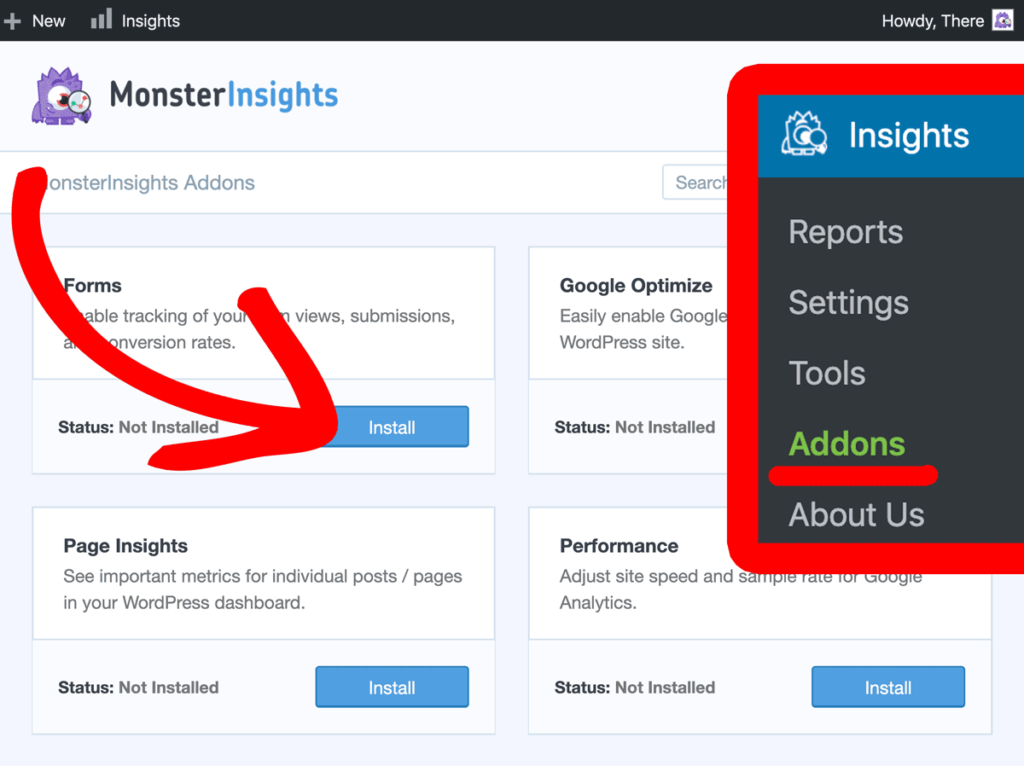 After installing forms addon you should activate it. Once activated you should see a active status as shown in the image below: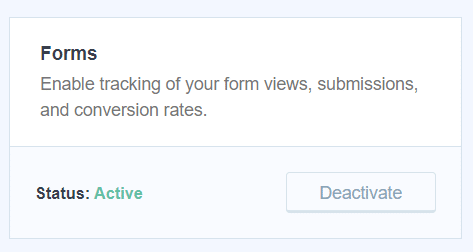 Voila! After this step the reports of the lead generation is generated automatically by MonsterInsights. The reports can be accessed by going to Insights → then clicking on Reports → and then clicking on Forms as shown in the image below: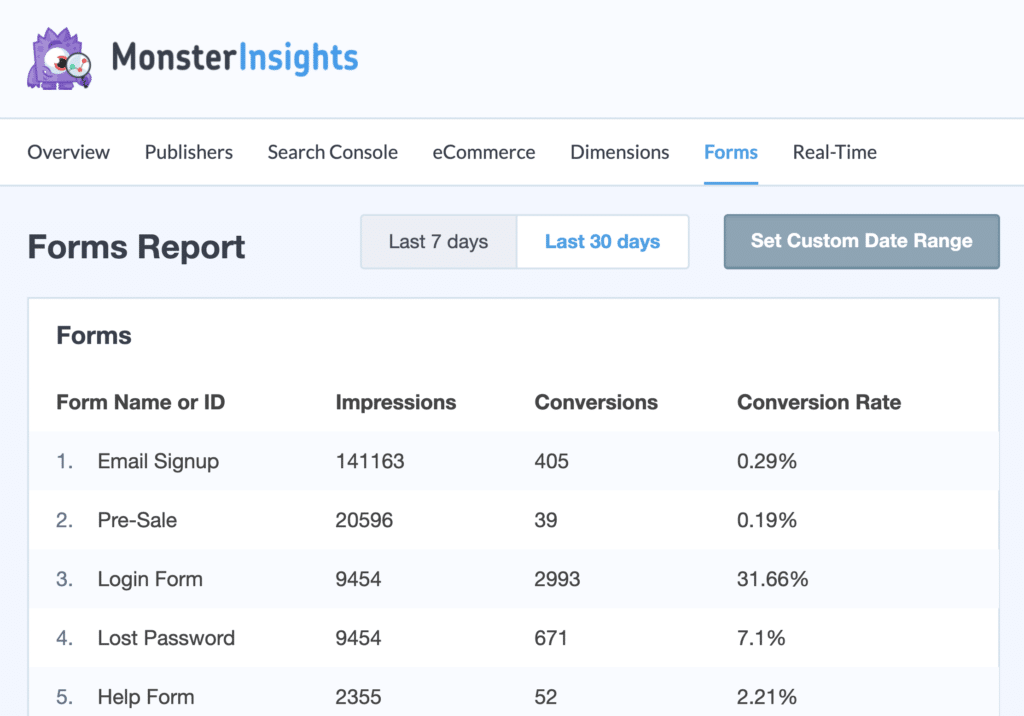 Tracking your lead source in google analytics
After conversion tracking is setup in the google analytics you can see the traffic source report and learn which source was responsible for successful lead generation.
With MonsterInsights you can learn which of your online forms is the best performer. If you want to know the location such as country or place of the leads, you will have to look into your google analytics account.
To do that login in to your google analytics account then from the left panel click on Behavior → then click on Events » and then click on Top Events. Here the forms are displayed as event categories.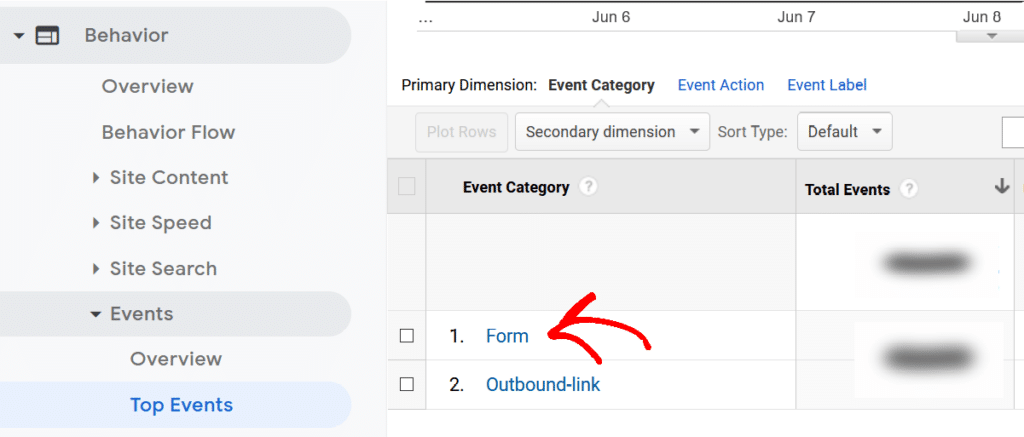 Next click on Form, here you could see Event Action, total impressions & conversions information. After that if you click on conversions you can learn the source of the people who have successfully completed the form. Refer to the image below: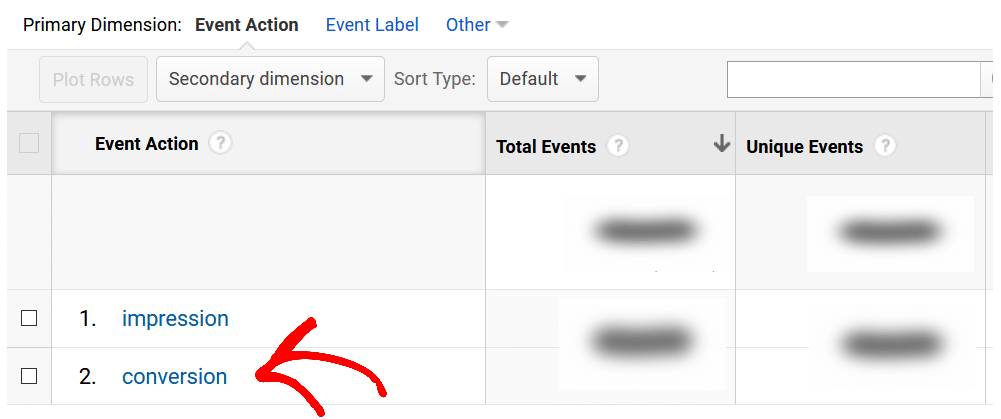 Here all the submitted forms of your website visitors will be shown where you can click on the particular form for which you want to know the source. The online forms can be of any kind, it can be a donation form, a simple contact form, a survey or poll for or even the newsletter subscription form. Refer to the illustration below: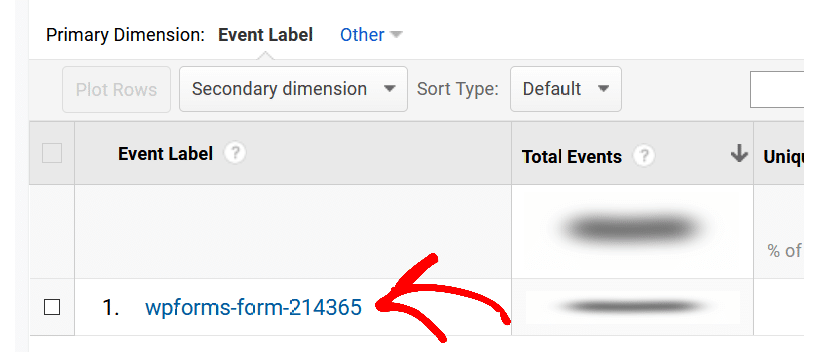 Now once you have figured the form, just click on it and select secondary dimension form the drop down s shown below. Then select Source / Medium just under the Acquisition. Alternatively you can also type Source / Medium in the search bar.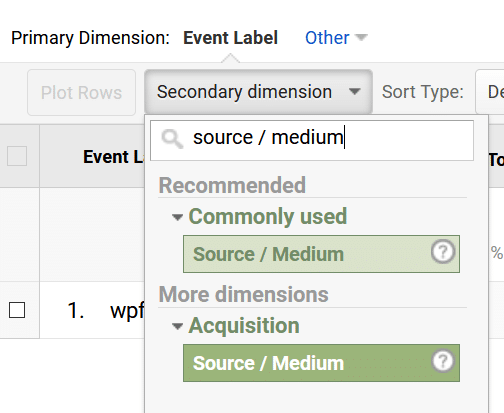 This action will exactly point and tell you what means your visitors used to reach your website. It will tell from which source they visited your site and did the form filling. It will tell you whether your website visitors came directly, or through google search or through some other means.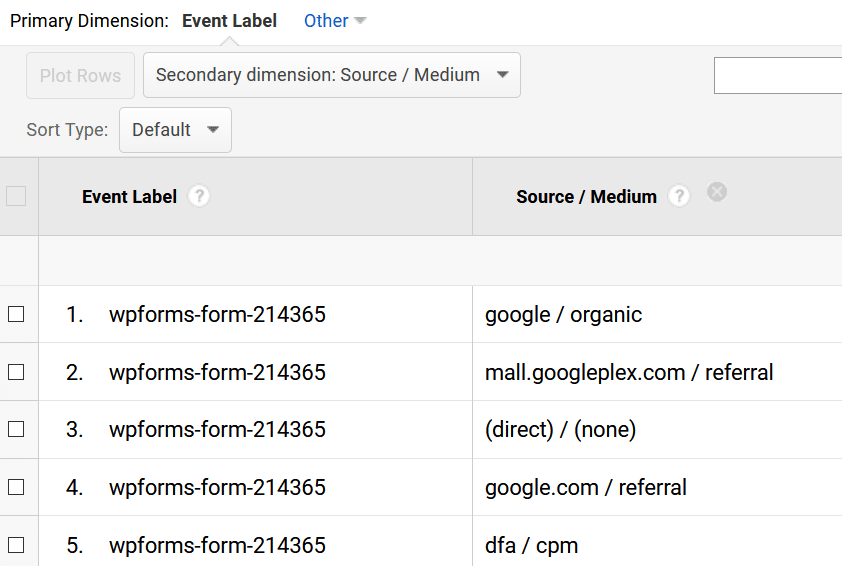 You can apply an advanced filter to further drill down the data. For example if you want to know about referral traffic of your website, you can click on advanced → then selectInclude→ then select Source / Medium→ then select Containing → then enter the particular referral → and then click on the apply button.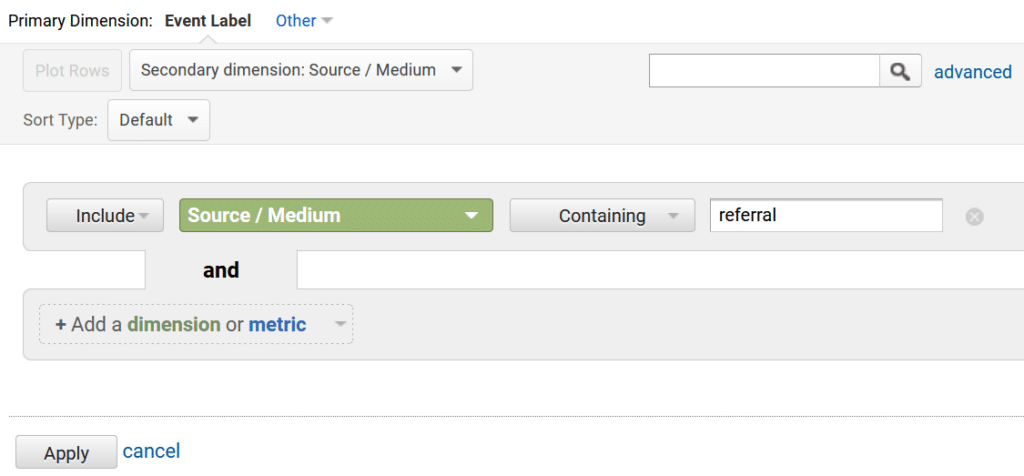 After clicking on apply button only referral sources of that particular form is displayed. Similarly you can perform these steps with other sources and conversion sources.
WPForms Form Conversion Source Tracking
As an alternate way you can also use WPForms to track conversion sources. To use this feature you need install and activate  User Journey Addon of WPForms. Please note that this requires WPForms Pro or Elite vewrion
To view the report go to WPForms from the WordPress dashboard → then click on Addons → then go to User Journey Addon and then click on Install Addon button as shown in the image below.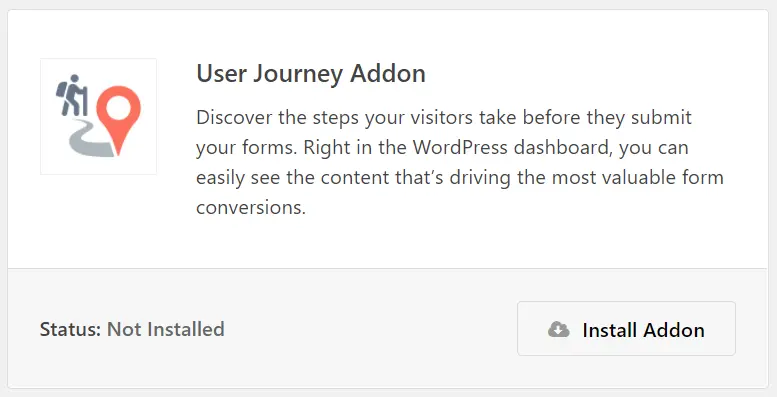 After activating the addon go to WPForms→ then click on Entries and then select the particular form that you want to see the user journey for.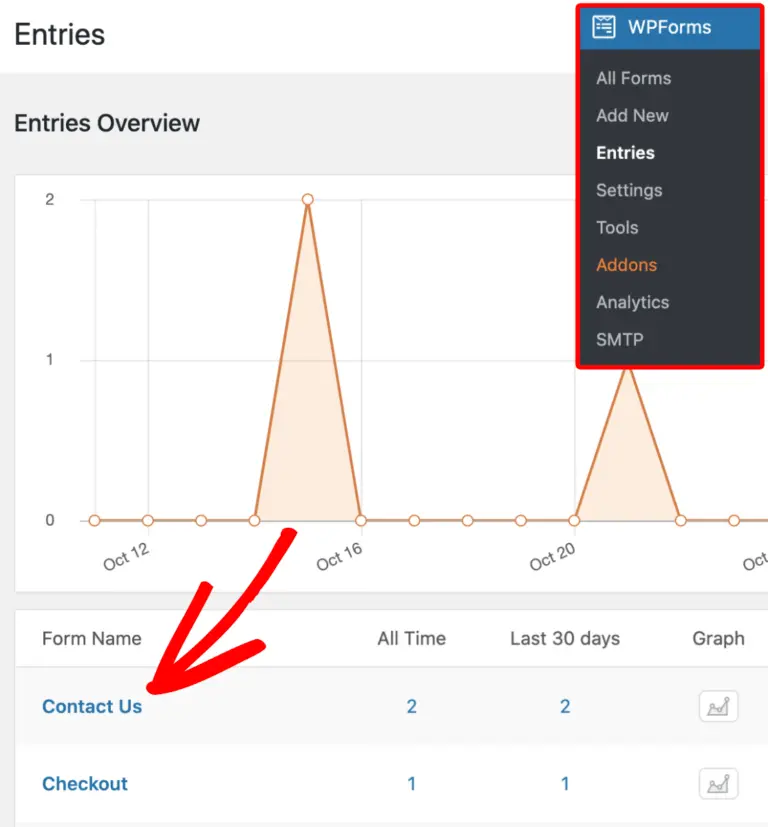 Now you can see the list of the form entries. To view the journey click on the view button.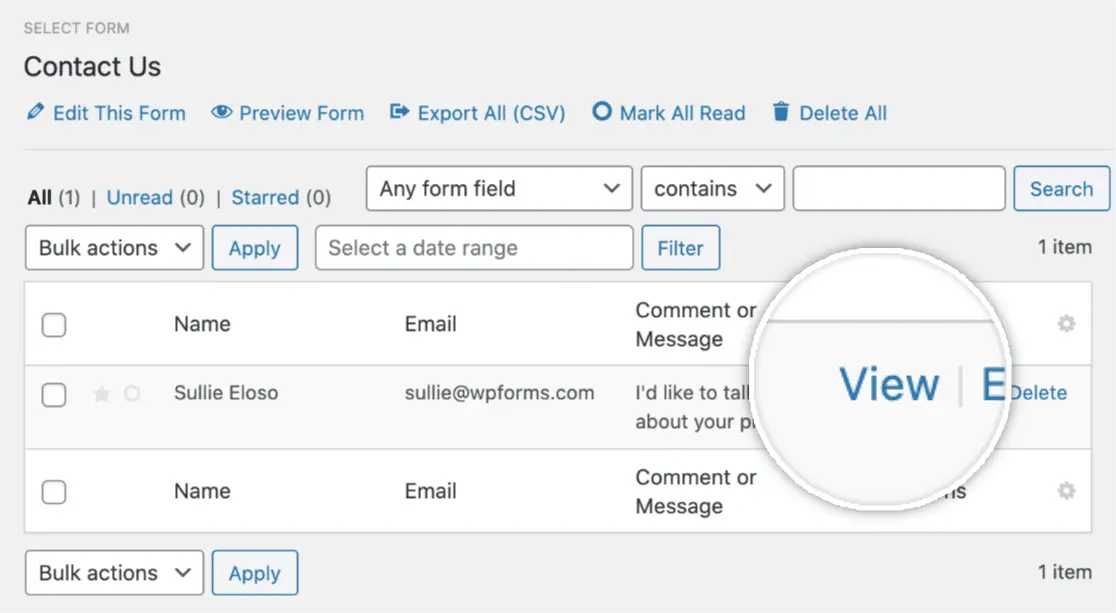 Now if you scroll you can see the User Journey of your website visitors. It shows the user activities. Also it shows the amount of time spent and the date etc.
Now clicking on info icon will display the URL details. You can also visit the URL by clicking on it.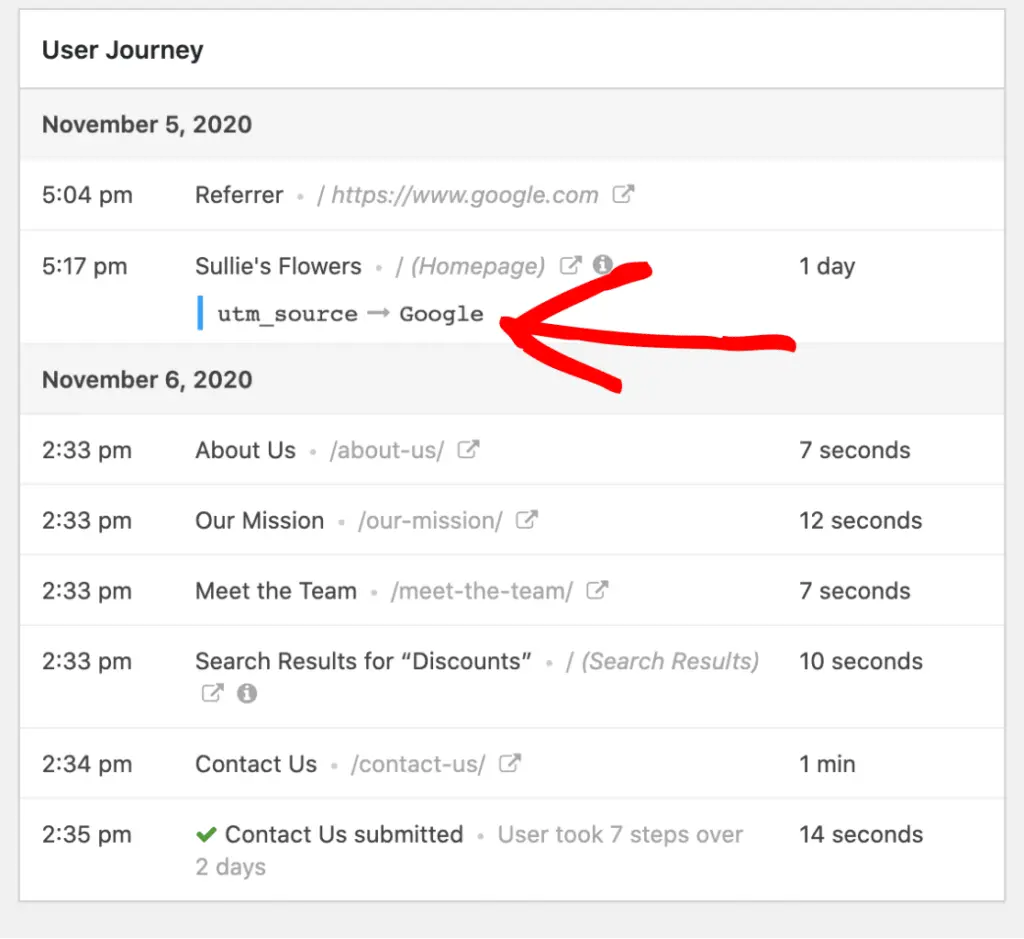 Now don't crush your head. I'll tell you how this information is going to help you.
Benefits of Tracking Form Conversion Source
If you are an individual or a marketer or an agency source tracking of your online forms helps you identify the source of traffic and get more leads. Here are few advantages:
Opportunities for New Partnership
If you come to know that one of your forms embedded on your partners website is performing well then you can make a deal with him to get even more traffic from his website.
If you are an affiliate partner then you can promote brands, products and services and earn a lot of money.
Best channel identification to promote the campaigns
If you do campaign across social media such as on Facebook, Twitter, LinkedIn and Instagram etc., you might want to know which of these channels helped you the most. MonsterInsights source tracking feature helps you do just that. This way you can plan your paid promotional activities accordingly.
I hope this article on How to Set Up Form Conversion Tracking in Google Analytics? is helpful. Keep visiting for more…
Click here to subscribe MonsterInsights Form Addon.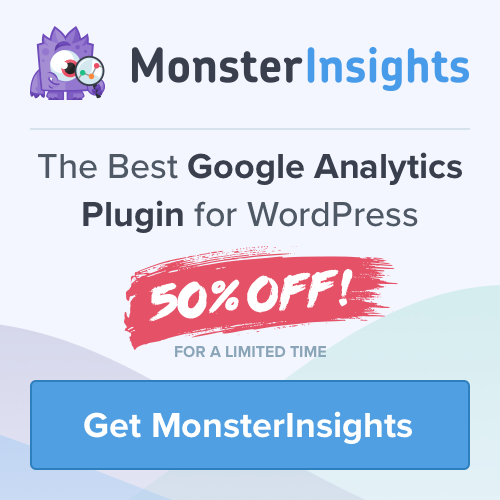 Similar Articles:
Best way to share WordPress analytics reports with Google Analytics
Best way to make your google analytics comply with CCPA
Best way to share WordPress analytics reports with Google Analytics
How to Use Email Marketing to Skyrocket Your Sales
How to Connect WordPress Website Leads And Salesforce CRM
Latest posts by himaghiri
(see all)